A delightful scam – Put What Where?
Put what where? – 2000 years of bizarre sex advice
John Naish
Harper Element, 2005
$ 7.28
290 pages
Language: English
ASIN: B00E7GOMM0
Isbn: 978-0007332540
@:
buy it online
I want to be clear here: this book is a scam. Put what where? – Over 2000 years of bizarre sex advice purports to be a collection of the weirdest suggestions from "sex help" guides from ancient Egypt onward. Indeed, its 27 chapters are rife with such excerpts. The frequently hilarious tips are grouped by topic, making them even more absurd in their blatant contradictions. While they won't make you a bedroom wonder, they are amusing and they drive home the message that when it comes to sex people have always been very, very confused. But I am digressing.
Fact is, the above mentioned content is just a misdirection. The author painstakingly collected all those pearls of wisdom just to swindle you. For you are bound to pick up the book for a quick laugh, read a couple of quotes… and fall in Naish's trap – as per his nefarious plan. Each chapter, you see, opens with a brief historical introduction summing up the context in which the original texts were written. And that is the real meat of this work.
Kidding aside, the precious few pages at the beginning of each chapter are indeed the really brilliant part of Put what where?. They read like an exceptionally well-researched history of sex education literature, dense with information about the society and culture where the sources first appeared. We follow the evolution of morals, the diffusion of the books through convoluted routes across the continents, the fads, the obsessions, the scientific debates. We also get to know the authors, equally divided among charlatans, lunatics, scientists, oppressors and liberators – each one of them with his or her agenda, revealed in the most entertaining possible way.
Soon the sex advices take second place behind the incredibly elaborate and exciting history of sexology and "sexperts", both real and self-appointed. A pattern emerges showing how repressive bigots always managed to have the upper hand against the naïve souls who only wanted people to have more fun and take control of their sex lives, how sexism always prevailed over equal rights, how religions through history made a point of turning the most natural and pleasurable act into a source of grief and guilt.
Come the second half of the book you cannot but root for the scores of sex-positive researchers who risked all to inform people about how sex really works. Unfortunately, you also clearly see how plainly delusional sexperts damaged their effort  with outlandish theories. Theories, by the way, usually founded on the belief that somewhere else – be it a distant country, or time, or even dimension – the secret of a perfect sex life was just waiting to be found and imported to the authors' cultures.
I regret to say that in the twentieth-first century the situation is still unresolved. Passionate researchers still struggle to be taken seriously among the madmen and the scammers, sex remains a mystery to most, and making a living by popularizing a sex-positive attitude is normally impossible – when not downright dangerous. Dreaming of a distant miracle is still preferred to make a little effort in learning what would be readily available at home. Put what where? explains why – and the weird advice interrupting the narrative is admittedly fun.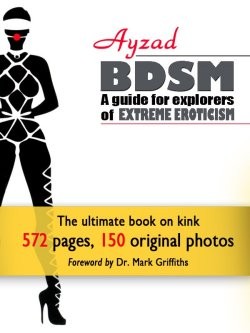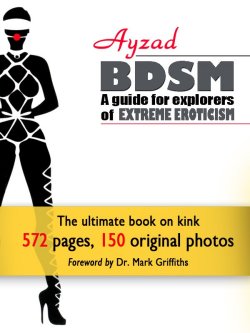 BDSM – A Guide for Explorers of Extreme Eroticism
The best-selling European manual and the most comprehensive book on the topic, now finally available in English!